There is so much I would like to share with you about my new fabric collection, Picnic Parade, including how I came up with all of the designs and the agonizing process of naming it. This collection was created immediately after returning home from Quilt Market last October. I was so inspired by the quilts I saw and the people I met and the things I learned that I couldn't wait to get back here and start creating! I'll share more about the design process soon. For now, some fun photos!
When I received the sample yardage for Moondance, I immediately took it outside, threw it all on the ground and started snapping pics. This time I wanted to take a more thoughtful approach and have some of my favorite artists create some fun things with the line. First up... these AMAZING purses by the AMAZING Jennifer Ladd:
Jennifer left a comment on my blog during my giveaway and shortly after she did this great tutorial at Sew, Mama, Sew for these Fat Quarter Purses. I absolutely fell in love with them and couldn't wait to have some made with my sample yardage. Jennifer did not disappoint! I am so in love with these that I haven't been able to stop looking at them. Is that weird? It is just so cool to see such a wonderful product made with my fabric. I love the way she combined the fabrics. I didn't get pics of the insides of these, but they are just as cute on the inside as out!
The fabric comes in two colorways. This colorway has lots of pinks, carnations, oranges and limes: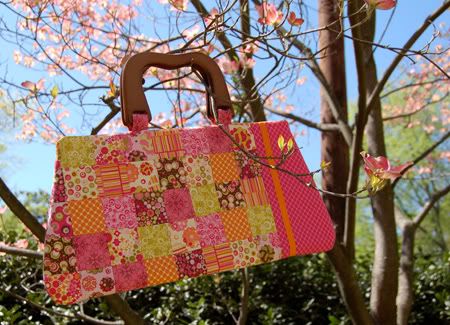 And this colorway has some nice blues, some grenadine and more greens and yellows:
I wanted this collection be full of color and to embody the spirit of spring and summer celebrations. These prints are all of relatively small scale and I did lots of allover prints to make it easy for cutting and creating without having to line things up (something I learned about at Quilt Market).
I've had some more really cute things made that I will share very soon. For now, you can get a look at the entire line here. I hope you like it!
Additional Note: I hope it was made clear in this post that Jennifer did all the work here... Sadly, I still have no sewing skills!