Well, I'm back from Houston and I'm fairly well-rested and ready to write about Quilt Market. Sometimes when I have a lot to write about I'll put it off but I want to go ahead and get as much of this down as possible before I forget. So, I'll start with the days leading up to the market.
Having never been before, I had no idea what to expect. I started re-reading everyone's blogs from Spring Quilt Market and contacting the few designers I was comfortable contacting in order to get some ideas on how and what to prepare. Because she is so open and cool on her blog, and because I'd had a conversation with her a few months back, I contacted Melissa Averinos of Yummy Goods. She was such a BIG help and I have a lot more great stuff to say about her later in the post. I also contacted Jane Sassaman. I had read on her blog that she was "in a state of hyper activity" in preparing for the market and this terrified me because I was in no such state. Not knowing what needed to be done, I wasn't doing much of anything. Jane wrote me a very sweet email explaining the way things work at the shows and it was a very good guide, as the show was almost exactly as she described.
I knew that Free Spirit was having a quilt made for my section of their booth and my agent, who was much more prepared for this than me, had some pillows, a dress and a really cute bag made. I decided (about four days before I left Memphis) that it would be great to have a couple of dresses to wear at the show and I went through some of my mom's old patterns to see if she could help me make something out of my sample yardage. Just for the record, I do not sew (yet). This came as quite a shock to anyone I happened to mention this to at the market and a few people even gasped. It kind of felt like a shameful secret but it is nice to get it out here in the open! Though I think most, maybe even all, of the Free Spirit designers are brilliant sewers, I come at this from a surface design background. I do own a sewing machine and I have had good intentions of learning to sew in the past, but I've never taken the time to do so as I always feel so busy with work. Now I have a very definite goal of learning to sew and a great incentive to learn so I'll keep you guys posted on how that goes!
My mom and I picked out this pattern: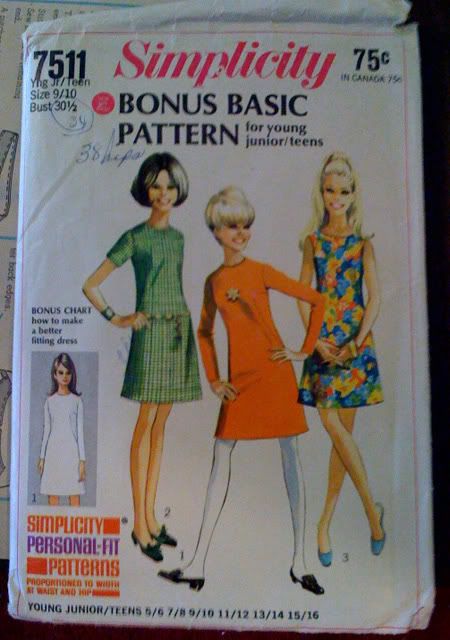 It was one of hers from 1967. Though it has probably been a good 30 or so years since my mom sewed anything, she did an AMAZING job! I was so impressed. Now, she did call my aunt, who is an EXPERT seamstress, about 30 times during the process to ask for advice, but aside from a few minor snags, everything fell right into place. I helped with the cutting out of the fabric and a few other details, but she did most of the work and I stood around for moral support and fittings and to hand her the scissors when needed. Oh, and I did some ironing. Here is how the first dress turned out:
Pretty cute, right? I still can't believe a dress exists in the world made out of fabric that I designed! We also did a second one, which went much faster and I'll show you that one later in the post.
So, with dresses and business cards in hand, I headed off to Houston. It took a couple of days to get there by car. I spent a night in Texarkana, then arrived in Houston on the Thursday before the show. The weather was gorgeous and promptly after checking in to the hotel, I walked to the convention center to check in with Free Spirit. Here is the view of the Westminster section as seen from above:
This picture was taken on Thursday afternoon, so they were just opening up those huge crates and getting started on the displays. When I headed into the convention area, the security guard noticed I was with Westminster and she talked excitedly about how Jay McCarroll had been there earlier and she started asking me all kinds of questions about him... none of which I could answer as I hadn't met Jay at that point. But I totally related to her excitement about meeting him!
I was welcomed warmly by everyone at Westminster, especially Jeff Prescott, the Sales Manager. He is really tall and has one of the best smiles I've ever seen. On a scale of 1 to 10, 10 being the highest, my anxiety level at that point was probably at an 8.5 and Jeff's calm and sweet presence immediately brought me down to at least a 7, maybe even a 6.5. That is actually saying a lot as I was experiencing high anxiety the whole weekend and only rarely dipped below a 7. Jeff suggested I introduce myself to Amy Butler, who was setting up her booth just a ways down. I'm always nervous when introducing myself to people but Jeff explained that Amy was one the nicest people he knows and of course, he was right. She was setting up her booth with her dad and they both stopped what they were doing and had a very nice conversation with me. Amy was so easy to talk to and so kind. I didn't talk long because I knew that if fans of hers kept coming up she would never get her booth set up. So I let her get back to work, then I signed up for Friday's Schoolhouses and headed back to the hotel for the night.
I'm starting to think I might have to slow down on the details a bit because the show hasn't even started yet and this is a really long post! I think I'll break it up a bit and call this "Part One" and start a new post for the rest of the show. I always worry about being too long-winded when I blog, but I guess I should write as much as I want because you guys can stop reading whenever you want. Then again, I never want to bore you. Okay, on to "Part Two"!