Finally... the Quilt Market begins!!
I arrived at the convention center early Saturday morning to sit in on the Westminster sales meeting prior to the opening of the show. This primarily consisted of all the fabric designers standing before the sales reps and discussing their new lines and what they were offering at the show. Jeff, the Sales Manager, went around the room and asked each designer if they'd like to say a little something. Amy Butler, Kaffe Fassett, Anna Maria Horner, Luella Doss, Valori Wells, Verna Mosquera... I could go on and on, but pretty much every Westminster designer got up and showcased their fabulous designs. I admired everyone's professionalism and as it got closer to my turn, I started getting more and more nervous about what I was going to say.
Jeff asked if I wanted to say anything and I remember walking up to the front and noticing that what I thought was a crowd of about 30 people suddenly looked like about 300. I think I said my name. I am pretty sure that I ran my hand down my dress in a silly spokesmodel-like way and explained that the fabric I was wearing was the inspiration for the whole line and that the rest of the line had evolved from that design. I don't think I said much else. I can't remember. I just remember practically sprinting back to my position in the audience and then being able to breathe again. I wondered later if Amy and Anna had always given such professional presentations of if they were as nervous as I was their first times around.
Although I had my camera with me the entire show, I didn't take nearly as many pictures as I should have. But here is my booth!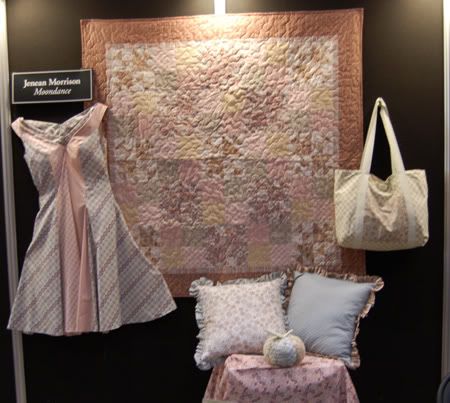 Here is a close up of the beautiful quilt that Westminster had made for the booth:
My name on the display banner!
And here I am (this pic is actually from Sunday) in one of my matching dresses:
One of the highlights of the show happened right after it opened. I was talking with Jeff and Melissa and we could see that right behind us a buyer was looking at my fabric. Jeff kept encouraging me to get closer and listen, so we all crept closer to watch the buyer and listen in. We were not discreet in any way, so of course she noticed us and then the coolest thing happened. She asked to have her picture made with me in front of my display for her blog! Really? She wanted to pose for a pic with me? How shockingly fun! I got her card and then later, back at the hotel, I realized that her blog was one of the ones I had poured over after last year's market! The blog is Julie at Quilt Market and she does these great recaps every year. How cool that it was her and how cool to be included!
There was quite a bit of downtime at the Market as the days were long and, since I didn't have my own booth, I didn't really have a place to hang out. I walked the show a million times, which was great because I got to see what everything was all about. I mostly hung around the Westminster area and talked with the other designers and with the Westminster employees that I had previously only communicated with via email. I spent a lot of time at Jay McCarroll's booth. I think everyone did. There was so much positive energy there and his two sisters were really cool and fun to talk to. Some pics:
That is the other dress my mom and I made, by the way. I just love it!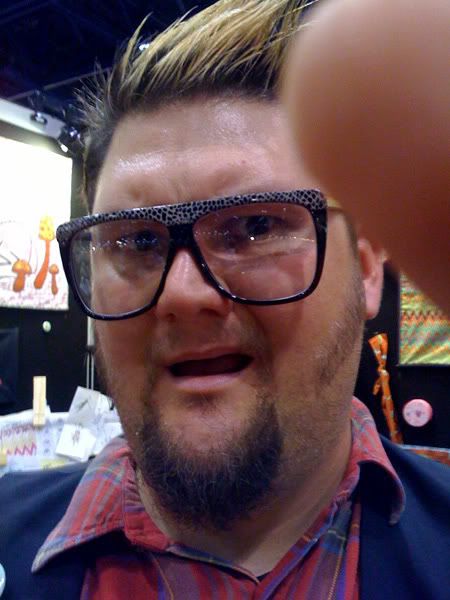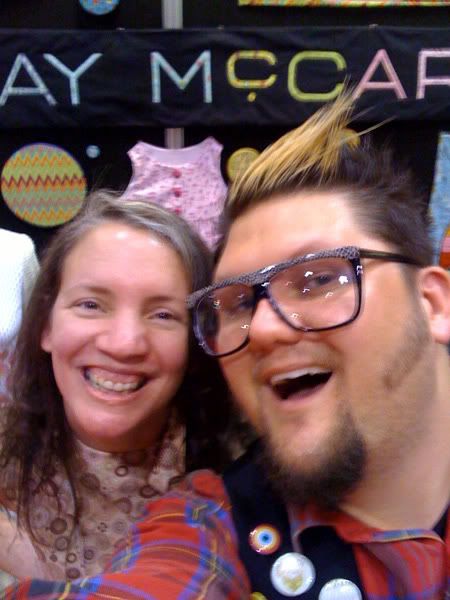 Here's Jay with his sisters. Below are some close-ups of Jay's inspiration for his line. I love that he included this in his booth. I always love hearing about and seeing the inspiration for design.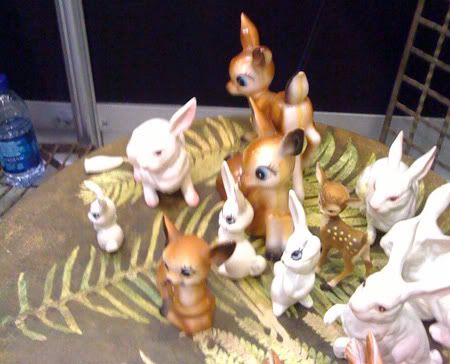 Jay and his family were all so cool the whole weekend. They made my experience a thousand times more enjoyable just because they were so nice and so fun to be around. They were also very knowledgeable. One sister, a quilter and sewer and (I think) editor of quilting books, gave me some great tips about quilting and what quilters look for in fabrics. I can't wait to implement some of her tips into my next line. She certainly wasn't suggesting I change my style in any way and she urged me to keep my original voice, but she did offer some very practical tips that I think will come in really handy in the future. It was nice to talk to a quilter and get a better understanding of how fabrics are used. Along with my sewing lessons, I am going to have to find time for some quilting lessons as well. I just think a better knowledge of how people use fabrics will really improve my future lines. That's why this show was so helpful. I got to see so much of what people are doing and how they are using the fabrics. Everyone kept saying this first show would mainly be a learning experience and they were right.
I also learned something from Jay's other sister, a pharmacist: I need to be taking vitamins! I told my husband about our conversation and he immediately went to the Whole Foods and got some liquid vitamins and we've both been taking them since I got back in town. I'm a little concerned that I might not need 3333% of my daily recommended Vitamin B12, but at least my body is getting some kale, beets and brussels sprouts, things I haven't eaten since I was a child. And I don't know if it is directly related or not, but I took the first walk I've taken in a while right after drinking my first vitamin shot. So we'll see how it goes!
I could probably go on and on about Jay and his family but I have a few other pictures to share. Remember when I said I'd read on Jane Sassaman's blog that she was in a state of hyper-activity? Well, as soon as I saw her booth I understood why: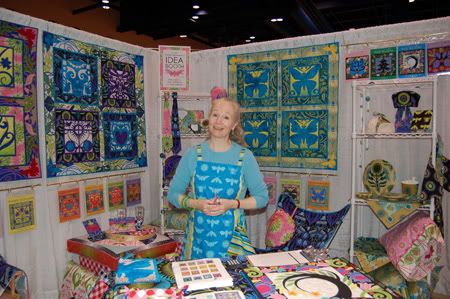 Wow! Look at all that work! I was amazed by her booth and she was so sweet. It was fun watching people react to her and be so excited about meeting her.
Believe it or not, I think that might be all of my photos. Oh, here's one of the Westminster aisle:
And here is one of Annette Tatum's booth:
Oh yeah, and here is one more. I saw these people looking at my fabric and what I should have done is ask if I could take a picture. They all probably would have turned around and smiled. Instead, I temporarily pretended to be some sort of spy and I tried to snap this pic without anyone noticing:
"Secret Agent" clearly would have been a bad career choice for me.
Over the two days that I was at the show, I met lots of cool people including Lizzy House and her super-sweet family. Lizzy has a great fabric line coming out! I also met Sheree of Sheree's Alchemy... another really nice person and she was very stylish as well. Toward the end of the second day I met Michelle of Green Kitchen with Kim Kight of True Up. Kim had mentioned me in a post a couple of weeks back and sent hundreds of people to my blog so it was nice to meet her in person! Also, Heather Ross was there promoting her upcoming book and she was really great!
Also, a quick thank you to Verna Mosquera who I got to talk to quite a bit during the show. It was so fun getting to meet everyone! I'm really looking forward to getting to know everyone better and to getting to know this industry better. I felt like such an outsider this time around, but now I can't wait for the next show!
I wish I had gotten more pictures of the booths and the people I hung out with. I'm seeing lots of great photos on all the blogs and I noticed that Free Spirit has some great ones up on their site. Funny, my post about the actual market is about half as long as the posts about the days leading up to it.
Thanks so much to everyone who helped to make this such an awesome week! Can't wait to see you all again in the spring!